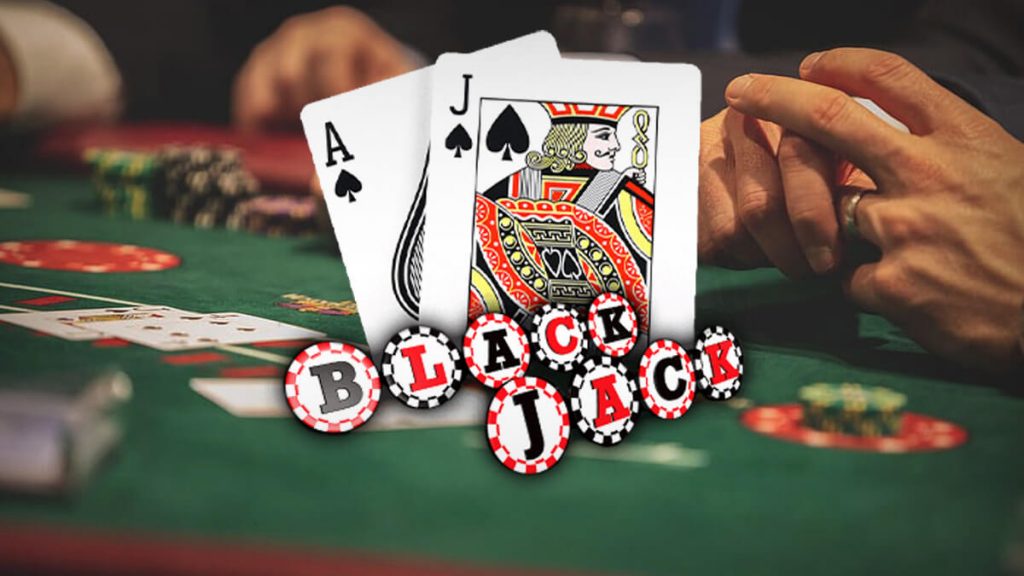 Blackjack is a classic casino card game of luck and skill that pits player versus dealer. It is played with one or more French decks of 52 cards in land-based and online casino portals. Cards are counted as their respective numbers, face cards as ten, and ace as either eleven or one. The object of blackjack is to beat the dealer. The game has not lost any of its popularity over the years and the main reason for that is simple: Playing blackjack is fun.  You may have heard of blackjack before but do you know how to play it efficiently? In this article we give you some tips to help you overcome the house edge as much as possible.
How to play blackjack: Four, six or eight standard 52-card decks are combined to create the dealer's shoe, which is also the source of where the cards are drawn from to give players' their hand in each round. Each card carries a point value, kings, queens, and jacks are valued at ten points; and aces can be used as a one or as an eleven. To win the game you have to collect card up to the value of 21, without going over or at the very least to beat the dealer's hand.
How to win playing blackjack: Now that you are aware of the basic rules, we show you our quick blackjack tips and tricks so make sure to read on. The value of your cards determines what actions you take and their effect on the entire game. Higher value cards are beneficial for the players while lower value cards are great for the dealer. Good to know that the lowest value card with the most significant disadvantage to the player is the five. The more fives are being removed from the shoe, the better!
When to hit: A hit is your way of asking the dealer for another card. There are different ways to notify a hit depending on the style of the game that your are playing. In face-up games, players can use either a wave of a hand towards their body or tap the table with a finger. In hand-held games, players scrape their cards against the table. We recommend you to use the following guidelines as a quick trick for when to hit:
Hit if your hand totals eight or 12 through to 16, and the dealer's face up card is a seven, eight, nine, ten, or ace.
Hit and do not double down if your hand totals 11, and the dealer's face up card is an ace.
Hit and do not double down if your hand equals ten, and the dealer's face up card is a ten.
Hit and do not double down if your hand equals nine, and the dealer's face up card is a seven, eight or nine.
When to stand: To notify the dealer that you want to stand, in face-up games, you must wave your hand horizontally across your cards, whereas you can place your cards under chips in hand-held games.
You should always stand if your hand totals 17 or above, no matter what card the dealer has.
Also stand if your hand equals 13 or above, and the dealer's face up card is a six or below.
If your hand consists of a splittable pair of 10s or face cards, do not split them, and stand.
When to split: A split is a bit more complicated. When splitting a pair of cards, you must place a second bet of equal value outside of the betting box while pointing with two fingers in a spread 'V' shape. From now on, the player will use each hand separately and the dealer will give an additional card to each new hand.
Only split a pair of twos or threes if the dealer's face up card is a four, five, six or seven.
Never split a pair of fives, either opt to double down or hit if the dealer's face up card is a ten or an ace.
Always split sixes and sevens if the dealer's face up card is a six or below.
Always split a pair of eights – no matter what the dealer's face up card is showing.
When to double: Doubling is a cool strategy which is generally used when your hand equals nine, ten, or 11, which gives players a good chance of hitting 19 to 20 with either a 10 or a face card.
Always double down on an eleven, unless the dealer has an ace.
Make sure to double down on a ten unless the dealer's face up card is a ten or an ace.
Always double down on a nine when the dealer's face up card is a three, four, five or six.
BlackJack Game Strategy for Australian players
For beginners the so called blackjack strategy chart can be also an option. It is designed to tell players exactly what to do in every possible situation. Today there are many different versions of blackjack, each with their slight differences in the rules. It is important to know all the rules and payouts before getting started a new variation. Card counting is an old strategy that was used by many professional blackjack players to make the game virtually beatable.
Actually, it is not hard to learn but it does need a lot of practising to do master it. Although it is not considered illegal, the casinos do not like it as it causes the casino to lose money. You can easily find yourself being thrown out or permanently banned from casinos if security or gaming attendants recognise that you are counting cards.
Playing online blackjack is excellent as you can stay in the comfort of your own home and this way you can save a tonne of money since you do not need to spend on flights, accommodation, food and drink etc. In addition, the sweet bonuses offered online are also worth it such as the generous welcome bonus for newbies or free spins and free casino chips for returning customers.
Last but not least, we suggest playing blackjack online for free before you risk your hard-earned cash.