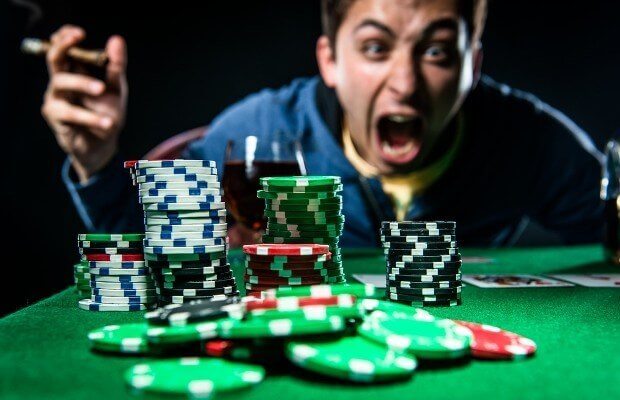 If you have ever tried any form of gambling, you know the sheer excitement you feel when taking risks and betting. It is really exhilirating and can't be compared to any other feeling. And you are in the skies when the screen finally goes bright and shiny, proudly announcing that you have won. This unique feeling is enough to make any player the happiest person in the galaxy!
Anyone who experiences this overwhelming feeling once, wants to experience it again and again and this can lead to addiction so be careful and set your own limits. However, the emotional thrill during the game is usually a positive thing, there is the negative side that may appear after losing your money. No matter what kind of feelings you are experiencing during the game, they will distract you from making the right decision.
And that is the reason why the most successful online gamblers are those who can put their emotions aside whenever they are making a wager, just like in business. It is important to keep your poker face, even if you are playing online. In this article we show you how to build up your emotional resilience.
The very first thing you really need to become a top online gambler is the capability to build up your emotional resilience which can be divided into three categories: financial, psychological, and physical.
Financial resilience is the easiest one to build. Make sure you do not bet more than you can afford to lose. Set your daily limits and never exceed them! This way you will be able to effortlessly stop playing whenever you have lost or won a particular amount of money without developing any addictive tendencies.
In contrast to building financial resilience, psychological resilience is rather a complicated step to undertake. Before making any bet, try to ask yourself how you feel about it and whether this process can have any negative effects on you. By doing this, you can avoid not only negative feelings but also the possible emergence of gambling addiction.
How to become a successful gambler?
You might not be aware of the fact how important physical resilience is in order to grow as a successful gambler. It is one of the most crucial steps to undertake to achieve success. It may sound trivial but the best way to make it is to eat well, do some exercises and take some breaks.
Another relevant point is to learn how you can cope with the ups and downs of online gambling. If you visit an online gambling site and start to play, no matter how good or bad player you are, you are going to face both losing and winning, that is for sure. And the way you react to these ups and downs may determine your future success.
Winning your bets makes you satisfied and also gives you some confidence for the next round. But be careful, as you might hit a lucky streak, but it will not last forever. Getting your winnings can sometimes generate some negative thoughts such as greed, overconfidence and laziness. Although it is often easier said than done, but try to keep your feet firmly on the ground so you do not get carried away with your success.

Long winning streaks are usually followed by a losing run, so you must cope with such periods. Some players might start to feel desperate or frustated and it is often hard to stop. All you need to do to overcome these negative emotions is just to accept that downs are part of gambling, they will happen, sometimes more often, sometimes less often but eventually they will. Whenever you feel you are in a negative wave, just take a short break and follow the next step.
We tend to underestimate the power of positive thinking, but we should not! Our mind is capable of miracles including in the fields of gambling. Positive thoughts lead to positive emotions which helps our brain focus and think rationally.
And it is vital if you want to win at any online casino! So instead of worrying about your mistakes and losses, try to focus on what your goals are and how much fun this game is going to bring you.
Keep in mind that online casino gambling should be a relaxing and enjoyable freetime activity which can also become a real passion. Following the simple rules we mentioned above can help make you a rational gambler and also a successful one.