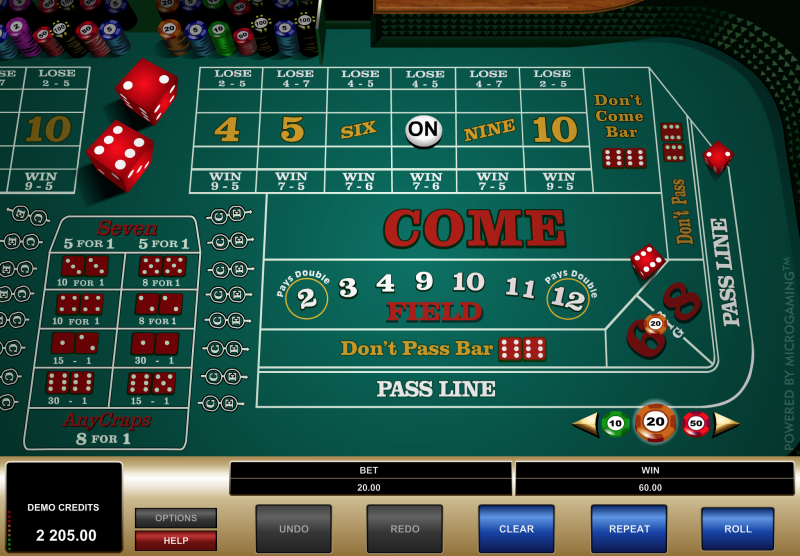 Craps is a dice game in which the players make wagers on the outcome of the roll, or a series of rolls, of a pair of dice. Players may wager money against each other (playing "street craps") or a bank playing "casino craps", also known as "table craps", or often just "craps". At first glance, this game seems like it is just a matter of luck, but if we take a closer look, we can recognize several different kinds of punters and their ways they play this game. We have collected real facts and observations to find the most common characteristics of the different types of punters out there. Reading this article, you can even recognize yourself and learn successful betting strategies to sharpen your Craps techniques. So let's roll the dice now, ok?
The Legend: These are players who reached some truley unbelievalbe results in Crabs and had continuous success in the game for years. Everyone is talking about them, but you may never see them in real life. They are the rarest and the most prominent types of Craps shooters, you can find their incredible life stories on the internet. But who are these shooters? Have you heard about System Smitty, The Arm, or The Captain? They are real legends and real shooters at the same time. They were so successful Craps players that everyone was convinced they were using some kind of secret technique, but noone could ever prove it.
The Strategist: These shooters believe in a rational approach and that they can plan all actions. They know endless number of gaming strategies and can talk about them for hours. Martingale is a gambling system of continually doubling the stakes in the hope of an eventual win that must yield a net profit. But they will teach you reverse Martingale, doubling down and a whole lot more strategies which basically stand on the same false interpretation of big numbers. In Craps they place random or non-systemic bets…never ever! Forget it! In a land-based casino, it is dangerous to do the same moves as a shooter and they will become suspicious in the eyes of the pit bosses and quickly find themselves on a no-no list at the entrance.
Devil-may-care player: Craps shooters are aware of the fact that all the players at the table basically depend on them. They risk their hard-earned money in the hope of good luck. Some shooters act cool like they just do not care and they are not going to be responsible for anyone else's bets. They are called the Devil-May-Care type of shooter. And if we think about it better, they are right. Craps is just a game of chance after all, regardless of your hopes, beliefs, and well-thought-out strategies.
Cautious punter: It is the opposite type of shooter to the above mentioned Devil-May-Care type. They act responsibly and they feel the pressure, they are scared of making a mistake. They are always showing that they really do care. When there are a lot of bets on the Pass Line and innocent novices stake their money, these cautious hearts melt. They will do everything they can to make those dice pass but only luck decides. And if they have a bad series, they will be amazingly angry.
The Player: When you see a noisy Craps table, you can be sure you bump into a brunch of 'Players'. They are a common type of Vegas tourists who know nothing much about Craps as about any other casino table. They love the thrill of hanging out in a real casino and they make all kinds of bets for the sake of playing. There are both shooters and punters among them. They often tend to lose all their savings in ten or twenty minutes so the house really love them.
The Trickster: They are the true gangsters of the Craps universe, the real bad boys. They are absolute masters of sleight of hand techniques and they can't ever be caught. They have perfected these to the point when noone even notices they do it, even when watching them on the casino TV. They are not trying to influence the game in an unlawful way but can make a fortune just playing Craps and then go for a chilling holiday to the Maldives. You can imagine they are not the casino's favourite guests.
The Grandpa: These old guys have always been the sharks of the local or online gambling casino. They saw the old Vegas of the 60s and 80s when the Sin City was totally different and they have tried it all. Some of them are retired, some of them are still rolling. Once you come accross a Grandpa, sit at that table and start a conversation. It will be interesting and the old man may even give you some tips to win big at Craps.
The Comp Collector: These players do not want to win at Craps at all costs, it is enough for them to collect comp points. In a land-based casino, you can redeem comp points for free drinks, food and even accommodation. For them, that is the only reason to play Craps.